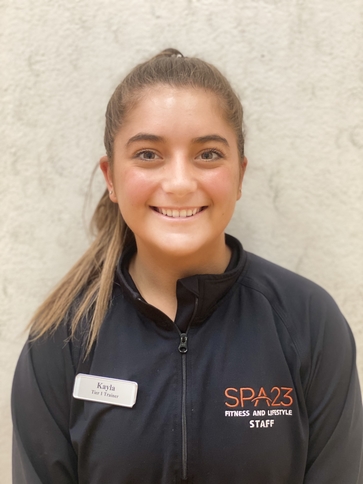 Kayla Aiosa
Tier 1 Health Coach
ACSM Certified Exercise Physiologist
Masters in Science: Exercise Science Minor in Psychology
American Red Cross Lifeguard, Water Safety Instructor, CPR, AED, and First Aid.
Kayla's passion for fitness and health began when she was in college. After originally going to school for physical therapy, Kayla fell in love with helping others learn about health and wellness and help them reach their goals and become healthier and more confident. Kayla has trained with many special populations such as children, MS individuals, Autistic Individuals, Cancer Patients, etc. and has been educated to give them the best care and help them reach their goals safely. Her outlook on training is to take each day one day at a time and know that even when you're not where you want to be yet, you're one step closer than yesterday. With Kayla's education, learned skills, and energetic techniques she will help you not only reach the goals you are looking for, but will also make sure you're having fun and growing mentally, spiritually, and physically along the way.